REVIEWS OF MAKEBELIEFSCOMIX FOR ESOL / LITERACY STUDENTS
ProLiteracy Notebook (Winter 2023); Resources for the Adult Educator
"Have you ever heard of MakeBeliefsComix.com? It's a website created by Bill Zimmerman, a former newspaper editor who now focuses on colorful, easy-to-use, visual-based writing prompts. His site can be used in a variety of class settings. Our article "Using MakeBeliefsComix to Prompt More Writing from ELLs, Basic Literacy Students" includes an excerpt from MakeBeliefsComix. com that prompts students to write about where they are from.''Do your literacy students and English language learners (ELLs) enjoy writing? Or does it take extra time and effort to get them to write?"
"Sometimes, it could just be a matter of combining creativity with the task of writing. The website MakeBeliefsComix.com provides teachers and students with a variety of resources where they can create comics or drawings and write text to accompany them. Using the resources from the site, students can create stories, or they can write about themselves. With some of the resources, they can send greeting cards or comics they created to friends and family. They also can create personalized comic strips."
-- Vanessa Caceres, Notebook editor at politeracy.org
TESOL Essential Teacher Magazine (June 2008):
"Imagine a computer lab full of adult ESOL students where not a word is heard, where every head is bent in concentration, where smiles erupt spontaneously, and where fingers are clicking away on the keyboards. This is precisely what occurs when my students work with journalist and author Bill Zimmerman's web site, MakeBeliefsComix.com.
"From the moment they open the web site and discover the tools, the students begin to explore. Minimal instruction is needed because the tools are self explanatory (with language or visuals), and students feel comfortable experimenting with them.
"Clearly, when students create a comic strip of their own, they are using their reading and writing skills as well as tapping into their creativity. The comic strip work readily supports classroom work."-- Review excerpt from TESOL Essential Teacher Magazine (June 2008) by Tamara Kirson, TESOL lead instructor at City College of New York in the United States. Ms. Kirson was named The New York Times 2009 ESOL Teacher of the Year.
"Comics give students a brain-friendly break from worksheets and mind-numbing exercises." -- Sylvia Guinan, professional English language teacher and Community Builder At WiziQ
NYS TESOL Idiom Magazine: "...ESL teachers may consider using this Web site with their students for various reasons, such as 1) practicing sentence structure and vocabulary; 2) engaging in make-believe conversations; 3) working individually or collaboratively; 4) introducing the idea of creative writing; 5) focusing on a speech genre; and 6) publishing their work. In addition, the setup of the site makes it feasible for teachers to design the writing activity to allow students to work individually, in pairs, or in small groups constructing authentic and meaningful dialogues." -- NYS TESOL Idiom magazine review by Anne Henry Montante, ESL teacher in Buffalo city schools, and Elena Doksh
ESL MiniConference Review:"...a very interesting new resource online for teachers and students who want to add creativity to their English language learning activities... It is a relatively simple Web tool concept, and an exciting way to engage ESL/EFL students in creative new activities where they can experiment with the social contexts of language use." -- ESL MiniConference Review
Ed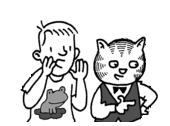 ucation World: "It can be used by educators to teach language, reading and writing skills,and also for students in English-as-a-Second-Language programs to facilitate self-expression and storytelling, as well as computer literacy. Parents and children can create stories together, print them to create comic books or email them to friends and family. It is a learning tool that is just plain fun!" -- Education World
Learning Languages: The Professional Journal of the National Network for Early Language Learning (Spring 2008): "MakeBeliefsComix.com is user-friendly and simple to use. Since visitors to the website may use any of the available images to create their own conversations, this resource can be extremely valuable to teachers who wish to present vocabulary and language structures in a meaningful context. The characters are all visually appealing, which is sure to catch the attention of children in world language class." -- Learning Languages (Spring 2008)
GraphicNovelReporter Blog (October 30, 2014): "Zimmerman's mission is to ensure that anyone coming across this site has something fun to do, and here, the fun to be had is in comics!....His latest work? A free interactive digital comic book for students enrolled in literacy and English Language Learner programs. The book, MAKEBELIEFSCOMIX FILL-INS, is a do-it-yourself comic book where students supply the words to complete the book. The comic e-book provides a place where students can give MakeBeliefsComix characters their own words and thoughts. All students need to do is follow the writing prompts and fill in the blank talk and thought balloons to determine what characters say and think. -- GraphicNovelReporter Blog
Nik Peachey's Daily English Activities Blog (May 28, 2009): "...a fun way you can use spoken phrases to create comic strips using the MakeBeliefsComix website. You can use these either to remind yourself of any new phrases you are learning, or just to enjoy creating your own comic strip." -- Nik Peachey's Daily English Activities Blog (May 28, 2009)
NY TESOL Dialogue: "I recommend this Web site for three reasons: ease of use, cross-skill application, and the "familiarity factor." The site is very easy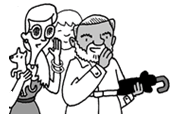 to use and it's free. You simply choose from a selection of characters, click and drag them into a panel and then add either dialogue or thought boxes. Poof! You've become Charles Schulz for the day. You may also choose from various emotions for each character, change their size or stance, and customize color. Even though the idea of students creating their own comic strip may seem more appropriate for lower levels, it can easily be used with higher levels. It has obvious applications in a writing class, but can also be used to reinforce specific grammar structures or specific vocabulary words for an oral skills class. Lastly, what I call the "familiarity factor" is the fact that all students, regardless of level, are familiar with the format of a comic strip. To me this is the most attractive feature because it creates a comfort zone for students — it allows them to experiment with language." -- NY TESOL Dialogue review by Eugenia D. Coutavas, Hunter College, New York
New York State Spanish BETAC: "As the website says, 'our best educators and parents understand that playing is learning.' MakeBeliefsComix.com is an excellent resource that allows English language learners to interact with a new language in a unique and enjoyable way." -- Poonam Basu, project associate, New York State Spanish BETAC, New York University Steinhardt Metropolitan Center for Urban Education
"Just wanted you to know that I have previously used your website with great success in working with a group of EFL teachers from around the world through the Electronic Village Online program." -- Sharon Betts, Educational Technology Coordinator, Turner, ME